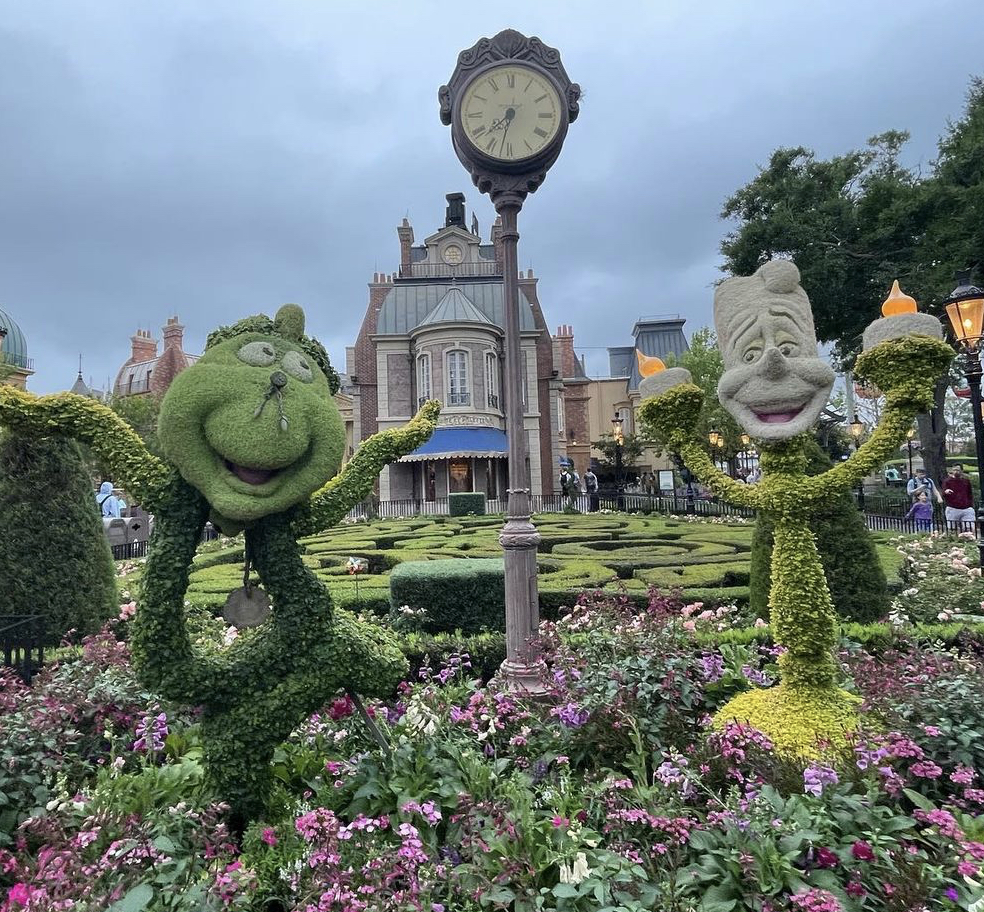 Located between the Morocco Pavilion and the International Gateway Bridge to the United Kingdom pavilion is Epcot's France Pavilion. The landscape is designed to feel like springtime in Paris with street trees and pastel flowers along the central boulevard, all positioned to enhance the illusion of distance. Reflecting France from 1870-1910 (the La Belle Epoque Period – or Beautiful Time Period) you will find many shops, a theatre, several dining options and the popular Remy's Ratatouille Adventure ride.
Using that famous forced perspective that Disney is known for, you'll even enjoy a view of the Eiffel Tower! The one-tenth replica of the Eiffel Tower was constructed using Gustav Eiffel's original blueprints.
The central area of Epcot's France Pavilion features a lovely fountain and you can even occasionally find street artists performing.
With the expansion to the Pavilion done a few years, the footprint almost doubled, giving guests many opportunities to enjoy all that France has to offer!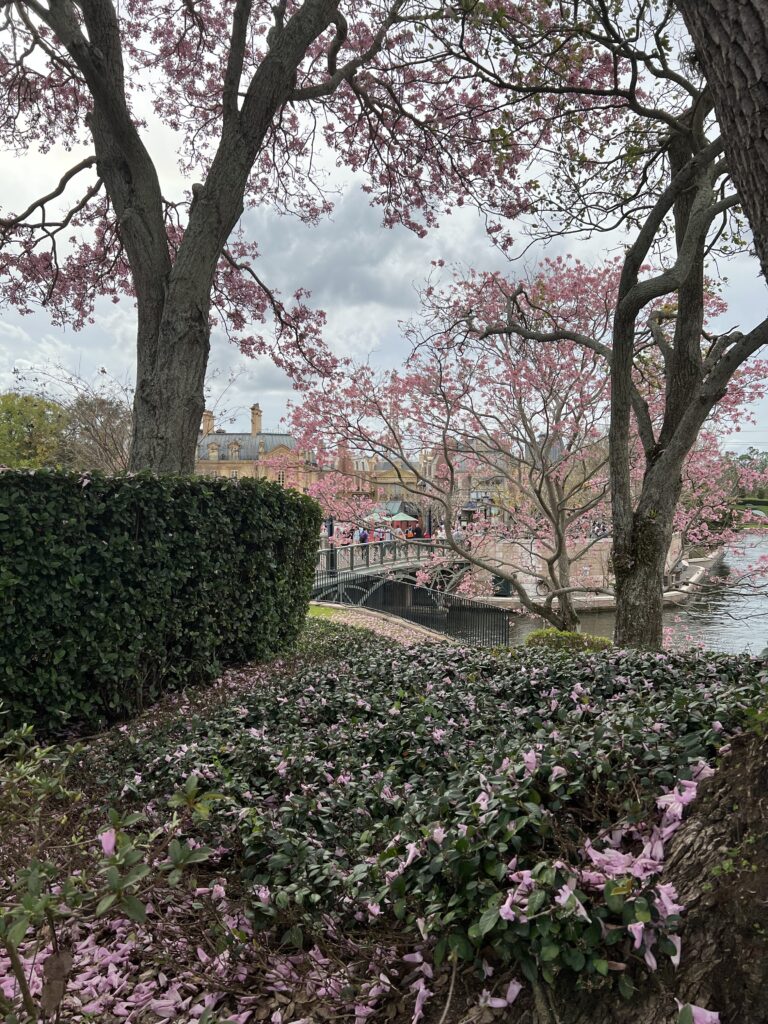 Dining in France
Chef de France- Featuring the creations of its three famous owner-chefs: Paul Bocuse, Gaston Lenotre and Roger Verge you'll find a menu consisting of French favorites like Escargot, Coquilles Saint-Jacques, French onion soup, Mediterranean seafood casserole, and duck à l'orange.
Monsieur Paul- a gourmet restaurant serving classic French cuisine
Les Halles Boulangerie – Patisserie – Sample delectable treats and tempting delicacies at this traditional French bakery—from soups and salads to fresh baguette sandwiches and pastries. Wine, champagne, beer and gourmet coffees are also available.
L'Artisan Des Glaces – A popular spot featuring ice cream and gelato
La Creperie de Paris–  Treat your senses to savory galettes and sweet crêpes at a restaurant inspired by the Brittany region of France.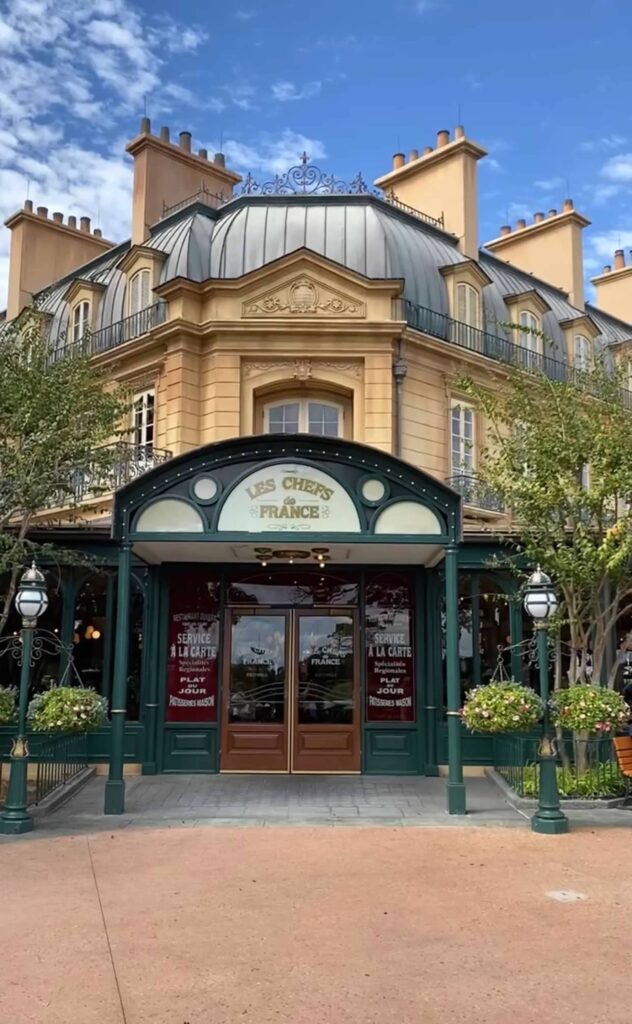 Shopping in France
L'Esprit De La Provence – dinnerware, tabletops, decorative items from Southern France
Souvenirs de Frances- Purchase France-inspired souvenirs
La Signature- accessories, perfumes and cosmetics
Les Vins de France- wine and accessories
Plume et Palette- designer fragrances
Attractions and Entertainment in France
Remy's Ratatouille Adventure — you'll shrink down to the size of a rat and enjoy this 3D ride through Gusteau's restaurant. The ride features a trackless ride vehicle that whips riders around in unpredictable ways!
Impressions du France- Enjoy an 18-minute film showcasing the grandeur, charm and romance of one of Europe's most enchanting countries.
Beauty and the Beast Sing along- Sing along with your favorite songs from the animated classic film, Beauty and the Beast while enjoying a new twist on this enchanting tale.
Kidcot Fun Stops – The Kidcot Fun Stops are located throughout World Showcase and offer kids the opportunity to create their own artwork and learn about different cultures. This Kidcot location is near Mexico Folk Art Gallery and features crafts inspired by traditional Mexican folk art in Mexico.
DuckTales World Showcase Adventure –Explore the countries of World Showcase with an interactive scavenger hunt game with Scrooge McDuck. You'll use the Play Disney Parks mobile app to find clues and trigger real-world special effects in the pavilions throughout the land. You might solve a mystery — or re-write history!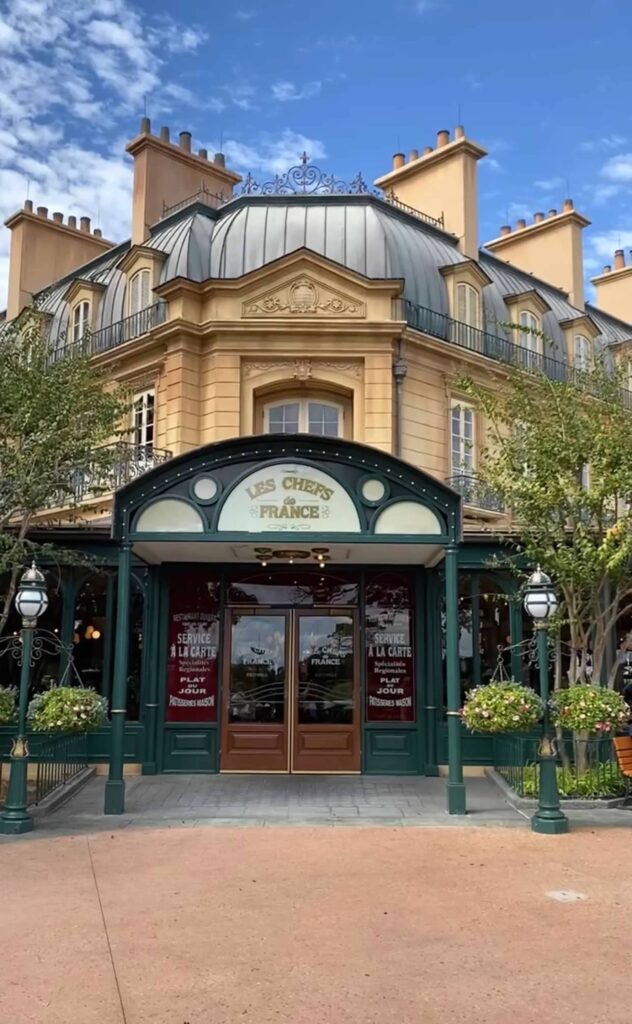 Disney Character Meet and Greet
Princess Belle regularly meets guests in her village dress on the World Showcase Lagoon side of the France Pavilion.
Princess Aurora from Sleeping Beauty has a meet-and-greet in the Gazebo in France, located on the far right of the pavilion area.
France Pavilion Tips
Did you know that the park bordering the canal along the right side of the pavilion was inspired by the famous painting "A Sunday Afternoon on the Island of La Grande Jatte" by pointillist artist Georges Seurat. Visiting during the holidays?
If you looked at the Eiffel Tower today as it stands in Paris, it would have similar coloring to the Statue of Liberty in New York. However, in Epcot's France Pavilion, the Eiffel Tower is more tan and pinkish. The reason is the France Pavilion here represents the late 1800s and the Eiffel Tower is the same color it would have been then.
Visiting during the holidays? Epcot's International Festival of the Holidays features storytellers in each country. In France, Pere Noele (or Father Christmas) reads a story from a letter that a child wrote him.