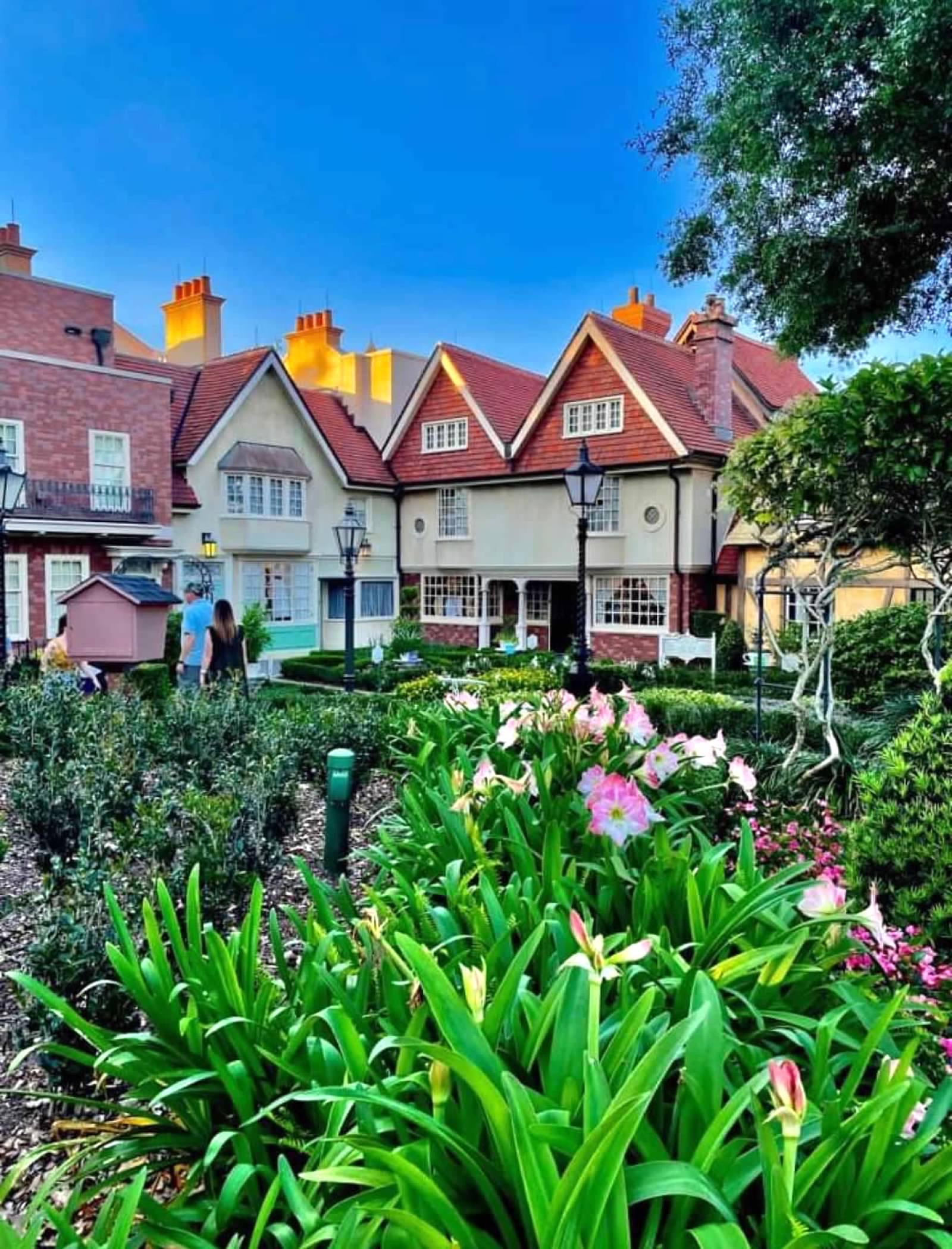 Epcot's United Kingdom Pavilion
Located between the France and Canada Pavilions is Epcot's United Kingdom Pavilion. Designed to look like a typical British village with buildings based on several different periods of Brith architecture, you'll find many shops and 2 dining options as well as a live band that periodically plays your favorite British hits.
Through a seamless blend of architecture, you'll travel from the streets of London to an English cottage. The regal Hampton Court Palace is represented, as well as buildings reflecting the Tudor, Georgian, and Victorian influences that the United Kingdom is noted for. One of the most interesting replicas is that of the building which is patterned after Anne Hathaway's childhood home. Anne Hathaway was the wife of William Shakespeare and her family home is considered the quintessential English cottage.
In the back of Epcot's United Kingdom Pavilion is a lovely English garden, topiaries, and Tigger's Maze. A large gazebo is the showpiece of this section where you will find the live band playing.
You'll be mesmerized by the attention to detail in this Pavilion with its soot-stained chimneys, a wonderful gazebo, beautiful gardens and replicas of UK phone booths. Make sure to stop for a picture!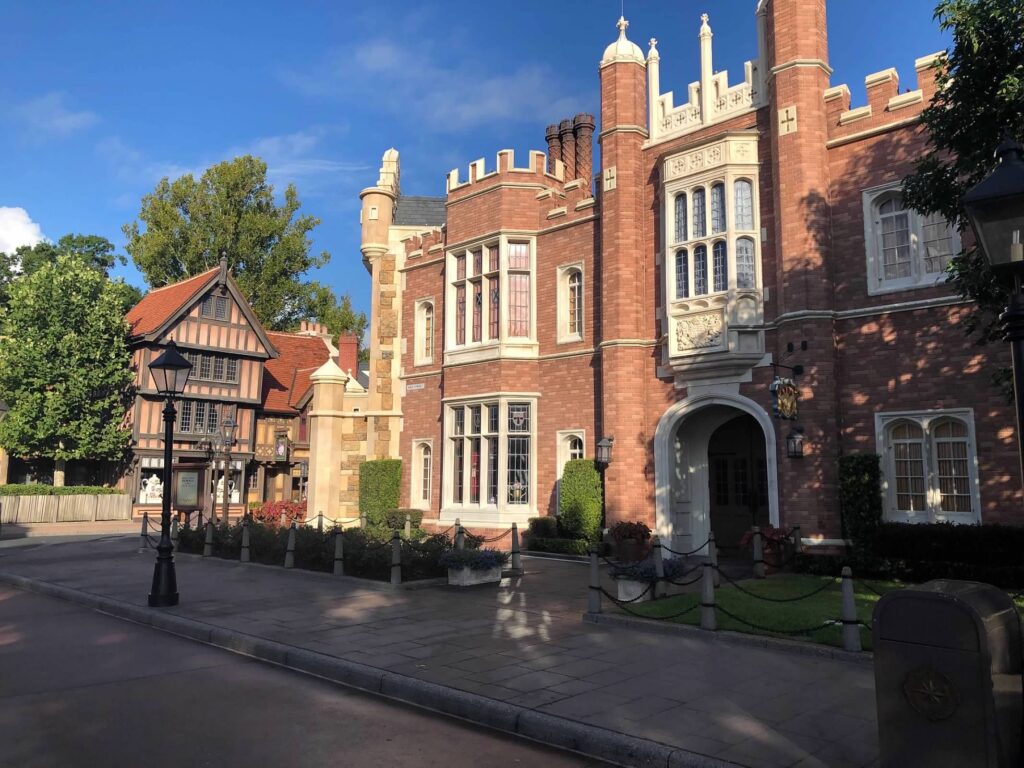 Dining in the United Kingdom
Rose and Crown Pub and Dining Room – Fish and chips, bangers and Mash, Prime Rib and Sherry Trifle are among the regular items at Rose and Crown. The Rose and Crown is open for lunch and dinner, with both inside and outside dining.
Yorkshire County Fish and Chips – counter service serving fish and chips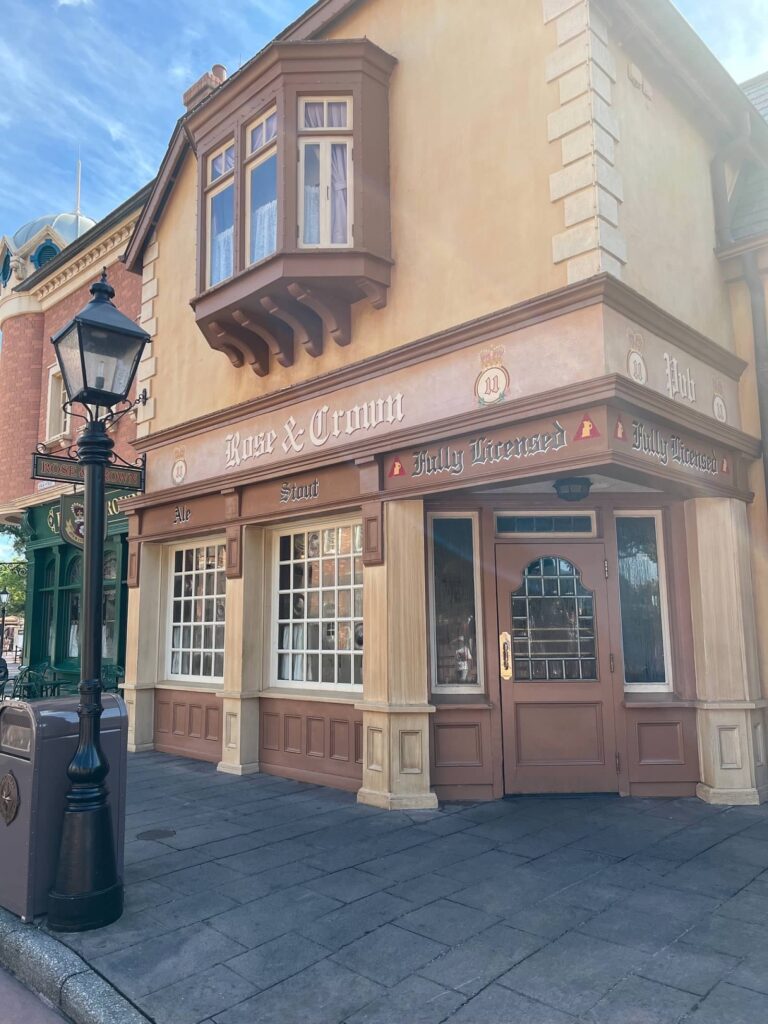 Shopping in the United Kingdom
Crown & Crest – Perfumes and potpourri.
Lords & Ladies – Health and beauty products
Sportsman's Shoppe – Sweaters, knitwear, kilts, tartan fabrics.
The Queen's Table – Fine china, florals, figurines.
The Tea Caddy – Specialty tea items, and you will find candies & chocolates usually only available in the UK
The Toy Soldier – British toys, games.
Attractions and Entertainment in the United Kingdom
The British Revolution – British rock group imitators
Kidcot Fun Stops – The Kidcot Fun Stops are located throughout World Showcase and offer kids the opportunity to create their own artwork and learn about different cultures. This Kidcot location is near Mexico Folk Art Gallery and features crafts inspired by traditional Mexican folk art in Mexico.
DuckTales World Showcase Adventure –Explore the countries of World Showcase with an interactive scavenger hunt game with Scrooge McDuck. You'll use the Play Disney Parks mobile app to find clues and trigger real-world special effects in the pavilions throughout the land. You might solve a mystery — or re-write history!
Disney Character Meet and Greet
The United Kingdomis a great place to meet characters! You can sometimes find Pooh, Tigger, Piglet and Eeyore as well as Mary Poppins and Alice in Wonderland. Make sure top check the WDW Times Guide.
United Kingdom Pavilion Tips
Those bright red phone booths you'll find in Epcot's United Kingdom Pavilion are identical to those found in the United Kingdom.
Looking for a great souvenir? Head to Crown and Crest where you can have your families crest placed on a ring, plaque or framed!
Visiting during the holidays? Epcot's International Festival of the Holidays features storytellers in each country. In the United Kingdom,Father Christmas makes appearances throughout the afternoon.
Visiting during Epcot International Flower and Garden Festival?   In addition to the herb and perennial gardens that are here all year, there are special topiaries!