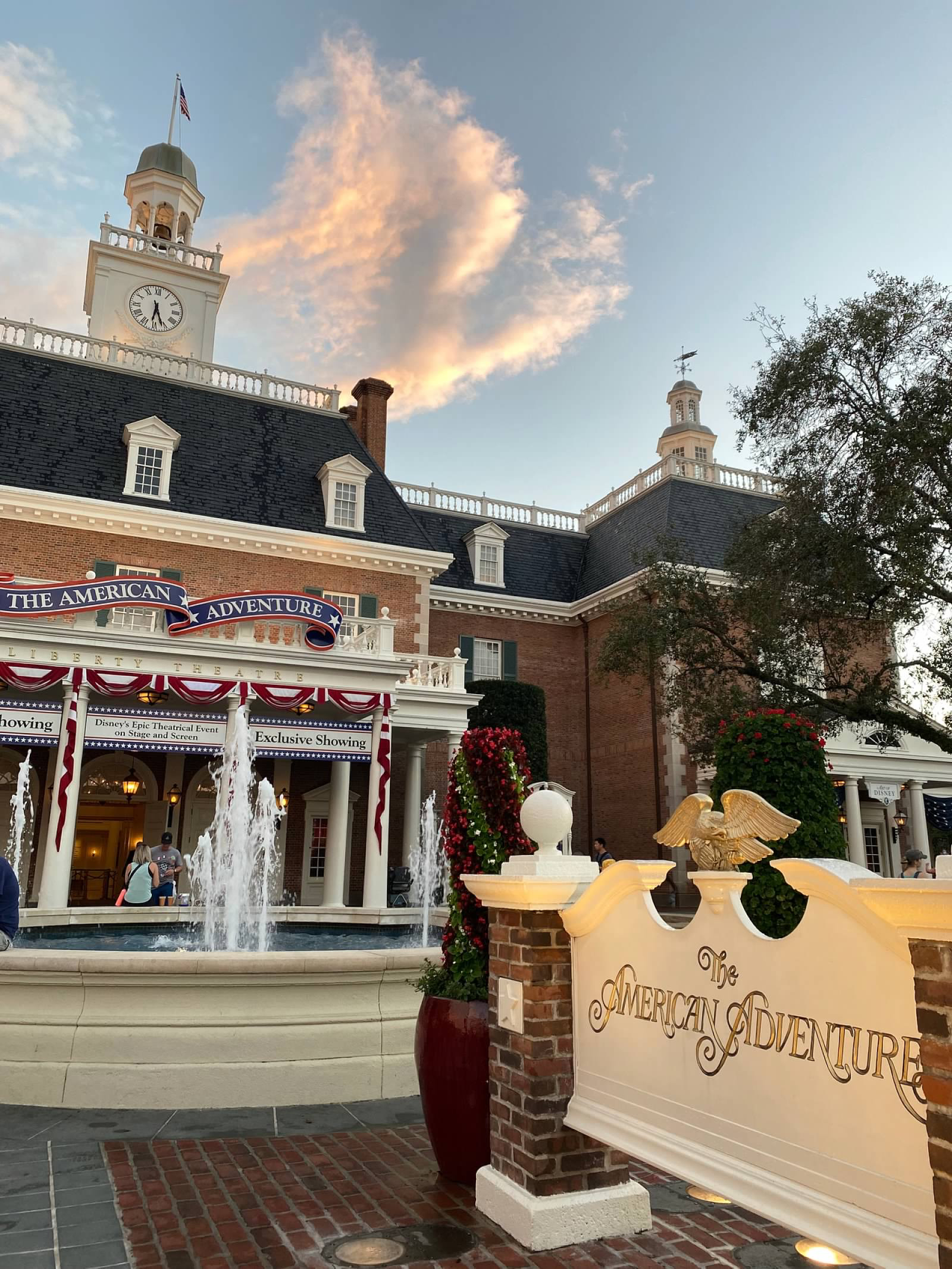 Epcot's American Adventure Pavilion
Located between the Italy and Japan Pavilions, as the Host Nation and the centerpiece of World Showcase, Epcot's American Adventure Pavilion  which is built at a slightly higher elevation than the surrounding pavilions. The landscaping here is the most structured of all the countries represented and use symmetrical planting and all-American plant material.  The American Adventure Pavilion is all about patriotism, with the gardens planted in hues of red, white, and blue. The roses are all varieties that are named for U.S. Presidents.
The pavilion includes an Audio-Animatronic stage show, an outdoor stage and amphitheater, the American Heritage Gallery, and some dining and shopping options all set among landscaped walkways and gardens.
The architecture of the America building is done in classic English Georgian style with inspiration taken from Independence Hall, Boston's Old State House, Monticello, and Colonial Williamsburg. The structure's 110,000 bricks are handmade from Georgian clay, which were then colored and aged to make them look authentic.  The lobby and halls are lined with quotations from notable Americans such as Walt Disney, Althea Gibson, Charles A. Lindbergh, Ayn Rand, Thomas Wolfe, Wendell Wilkie, and Jane Addams. The artwork depicts the development of the United States.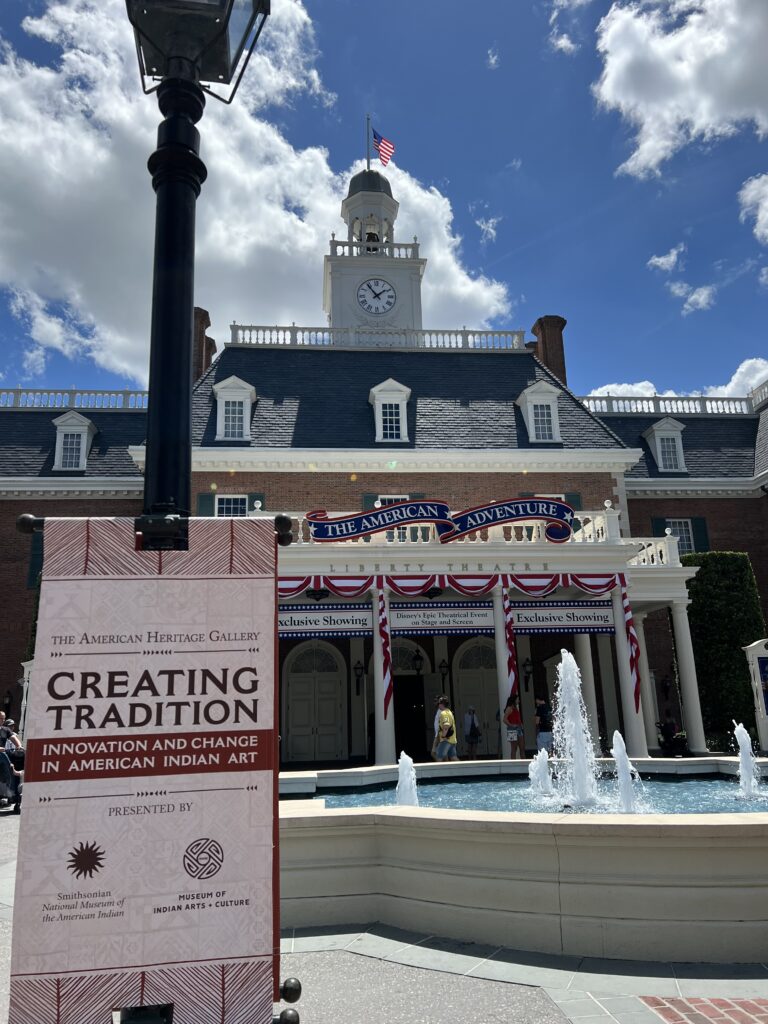 Dining in America
Regal Eagle Smokehouse: Craft Drafts & Barbecue –Guests dining here will find barbecue inspired by four different regions of the United States.
Funnel Cakes – Serving different types of funnel cakes
Fife and Drum Tavern – Turkey legs and snacks.
Block and Hans Craft Beer Kiosk- Serving your favorite USA drinks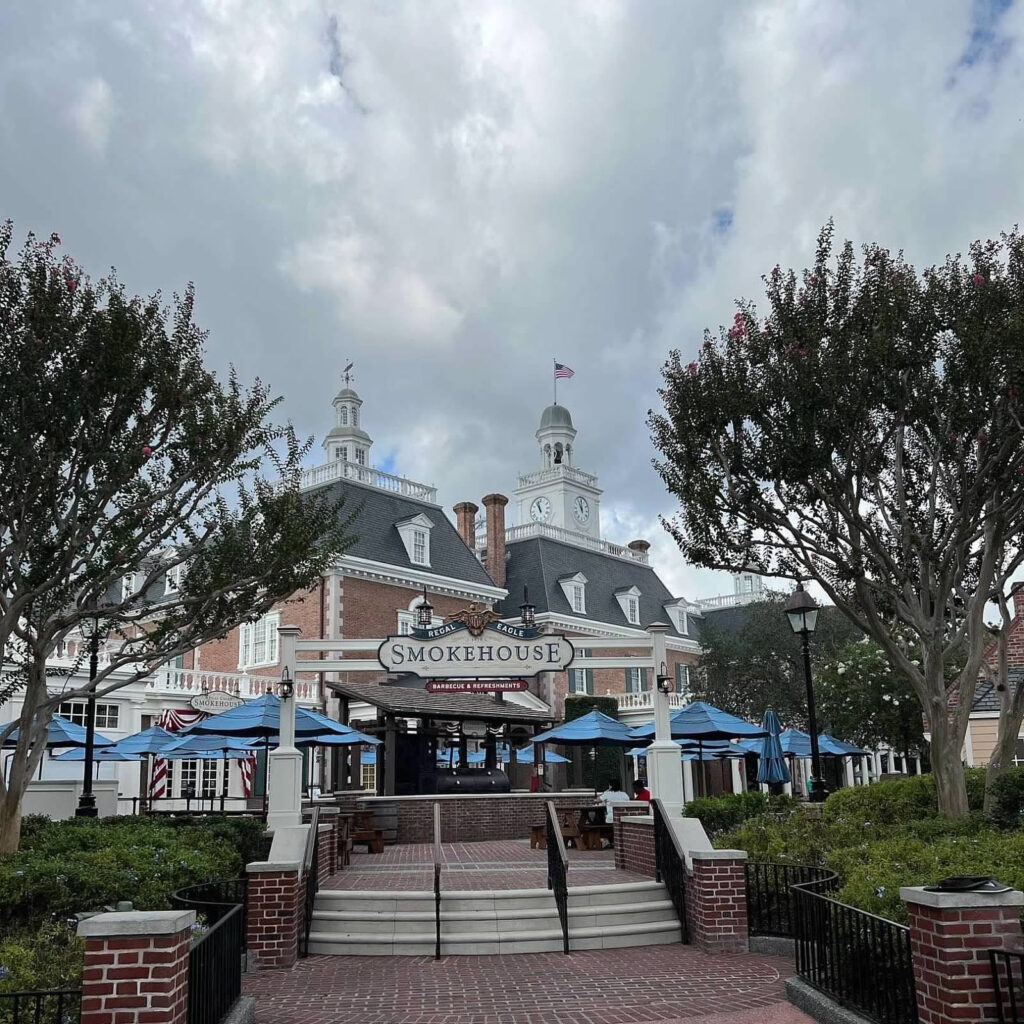 Shopping in America
Art of Disney – You'll find everything from traditional to contemporary artwork here as well as souvenirs, prints, and more.
Pin Cart – Pins and souvenirs
Attractions and Entertainment in America
The American Adventure This 30 minute show features Audio-Animatronic figures, filmed images, moving sets, and sound and lighting effects and highlights notable events and great personalities in American History. As you sit down before the show, you will notice 12 statues, 6 on each side of the theater. These are the "Spirits of America." On the left side of the theater, from front to back, are Individualism, Innovation, Tomorrow, Independence, Compassion, andDiscovery . On the right side of the theater, from front to back, are Freedom, Heritage, Pioneering, Knowledge, Self-Reliance , and Adventure. They are all life-sized, and are highlighted during the final sequence of the show.
American Heritage Gallery – Houses anart exhibition called "Creating Tradition: Innovation and Change in American Indian Art." Where guests will find over 89 pieces of art that represent 40 different American Indian tribes from seven geographic regions across the United States. Among the items displayed are both the work of contemporary Native artists alongside artifacts from centuries past.
The America Gardens Theater – Directly across from the American Adventure building is The America Gardens Theatre which hosts live stage shows and concerts in Epcot. Live shows such as the Candlelight Processional and Eat to the Beat concerts are held here.
The 8-part a cappella singing group, Voices of Liberty, performs American folk songs in the rotunda of The American Adventure. They can also be found on the outdoor stage at America Gardens Theatre occasionally.
A 5-part a cappella group, American Music Machine, performs on the America Gardens Theatre stage usually Wednesdays through Sundays and sing contemporary American hits.
Kidcot Fun Stops – The Kidcot Fun Stops are located throughout World Showcase and offer kids the opportunity to create their own artwork and learn about different cultures. This Kidcot location is near Mexico Folk Art Gallery and features crafts inspired by traditional Mexican folk art in Mexico.
DuckTales World Showcase Adventure – Woo-oo! Explore the countries of World Showcase with an interactive scavenger hunt game with Scrooge McDuck. You'll use the Play Disney Parks mobile app to find clues and trigger real-world special effects in the pavilions throughout the land. You might solve a mystery — or re-write history!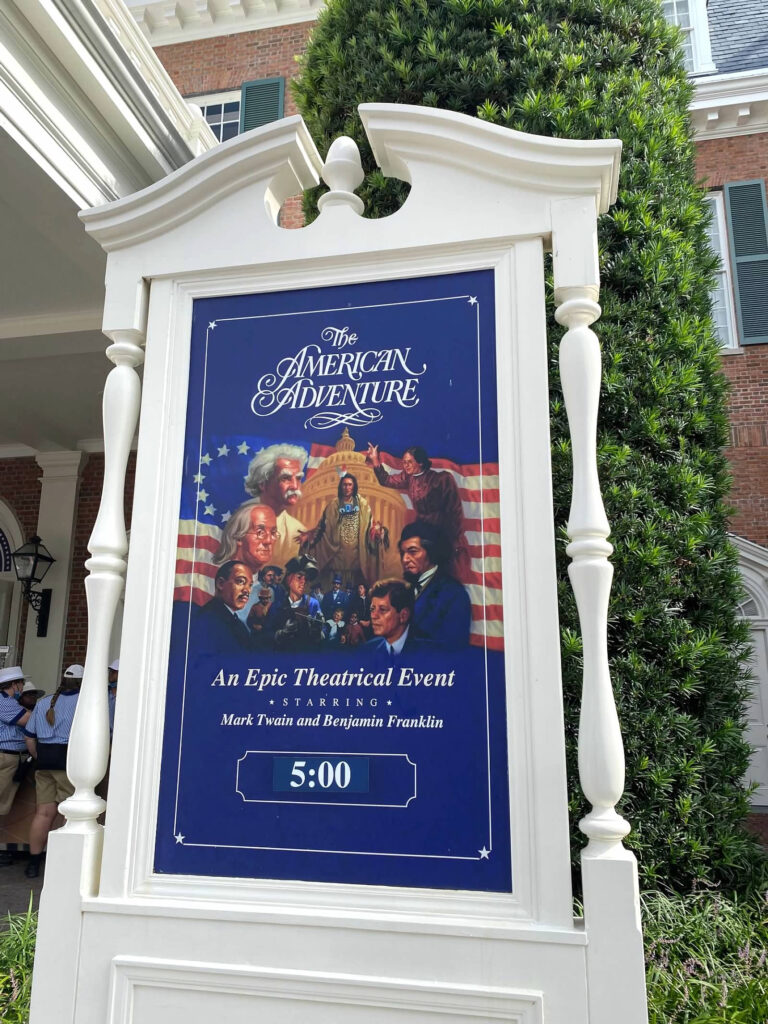 Disney Character Meet and Greet
While there are no set Disney character times, you can occasionally catch some American favorites walking the Pavilion,. Stopping for pictures.  Keep your eyes open for Big Al from Magic Kingdom's Country Bear Jamboree or Meeko from Pocahontas!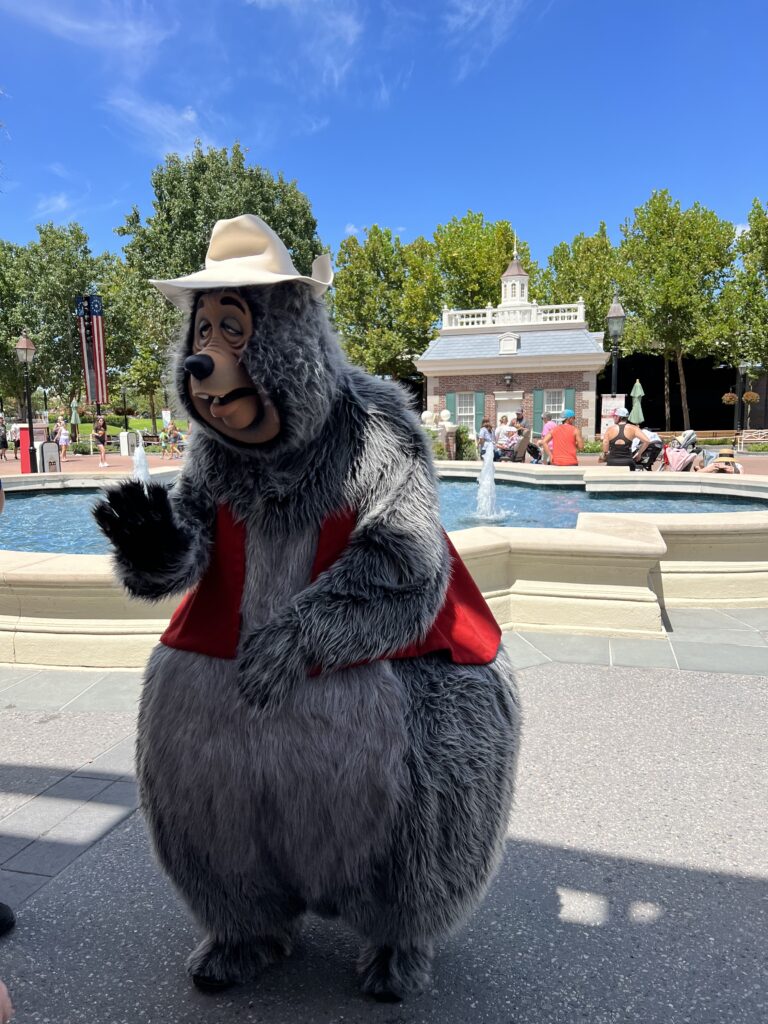 America Pavilion Tips
Take a nice 15-minute break, sit on the cool floor just inside the main doors and enjoy the Voices of Liberty. They sing at specific times throughout the day.
Look at the Clock Face. You will see a numeral IIII, instead of the IV. This was done to prevent confusion when viewing the clock from a distance.
Visiting during the holidays? Epcot's International Festival of the Holidays features storytellers in each country. Also during this season, in the America Pavilion you'll find special related exhibits as well as a storytelling Santa Clause. Also during the holidays, the American Adventure is home gingerbread American icons like the Washington Monument and the Capitol Building.
Hidden Mickey Sighting: Lobby — painting of wagon train heading west — above the front leg of the foremost oxen