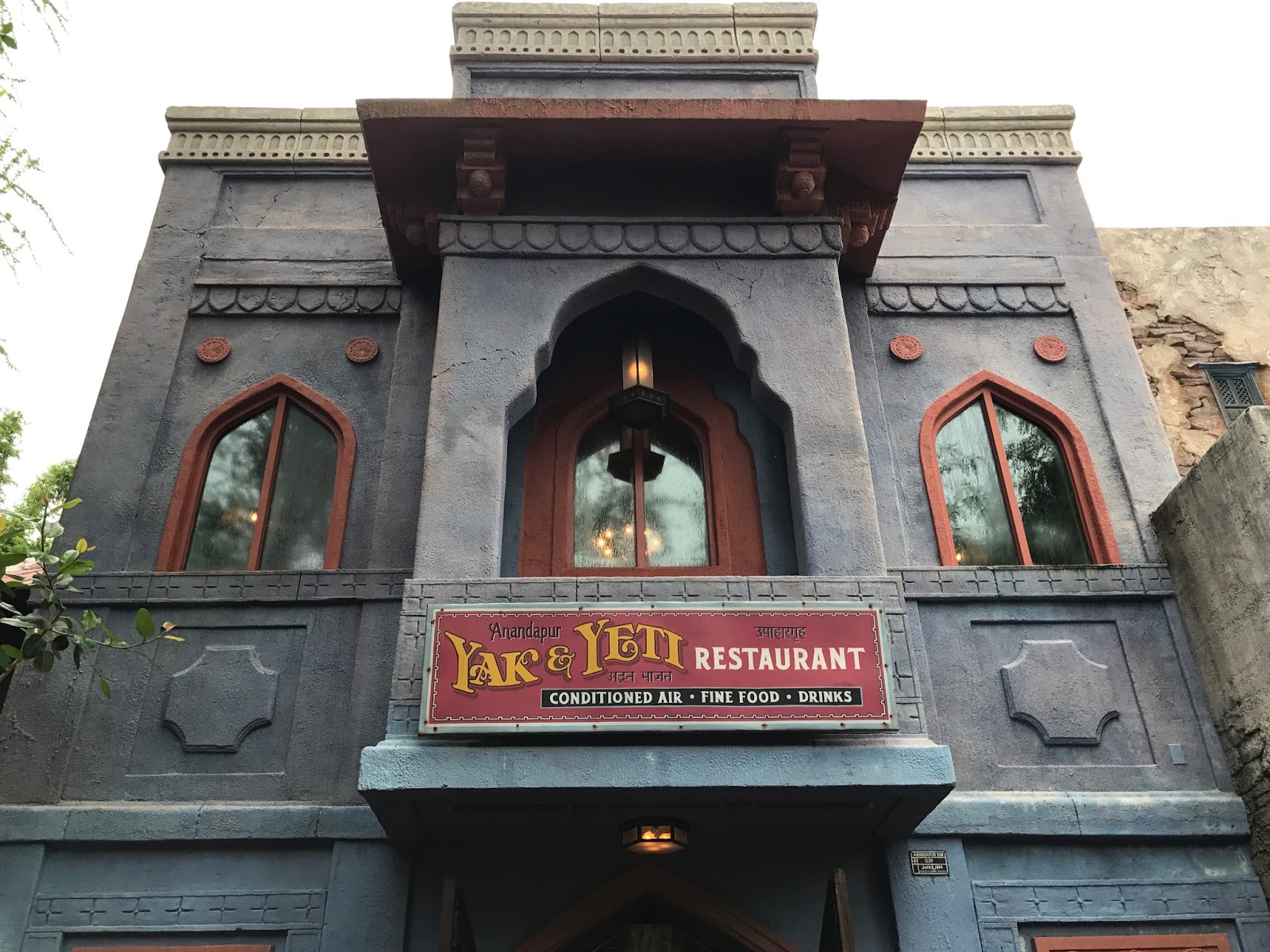 Find rest and restoration after your Expedition Everest trek within this quaint blue village home turned table-service restaurant at the base of the mountain. This is a Nepalese- style restaurant serving pan-Asian dishes and fun fusion cuisine. Not to be confused with Yak & Yeti Local Food Cafes which is a quick-service counter style dining location next door for on-the-go travelers.
Lunch – 10:30 AM to 4:40 PM
Dinner – 4:45 PM to 6:50 PM
Annual Passholders receive 10% off at this dining location
Landry's Restaurant gift cards accepted here – Dining Deal Alert! These gift cards can often be purchased from warehouse club stores at a discount.
Ambiance
Hot take! This is my favorite table-service dining option within Disney's Animal Kingdom Theme Park. Sure, Tusker House Restaurant is a great choice for a character dining buffet, and Tiffins Restaurant provides an elegant upscale meal. But I find that Yak & Yeti Restaurant fills the need for a casual table-service experience serving top-notch dishes. You won't feel out of place wearing your comfortable park clothes when you stop here for lunch or dinner either.
Located within the Asia section of Disney's Animal Kingdom, the immersive experience of being transported to the Himalayas continues as you enter Yak & Yeti Restaurant. When you walk through the front doors, the warm wood accents and architecture greet you and extend as you pass through the corridors and unique dining rooms filled with large furniture pieces and eclectic trinkets from the proprietor's collection of Southeast Asian artifacts. Try to find time to examine some of the wood-carvings, photos, and wall-hangings. A grand staircase and chandelier sit at the heart of the restaurant leading to additional seating upstairs.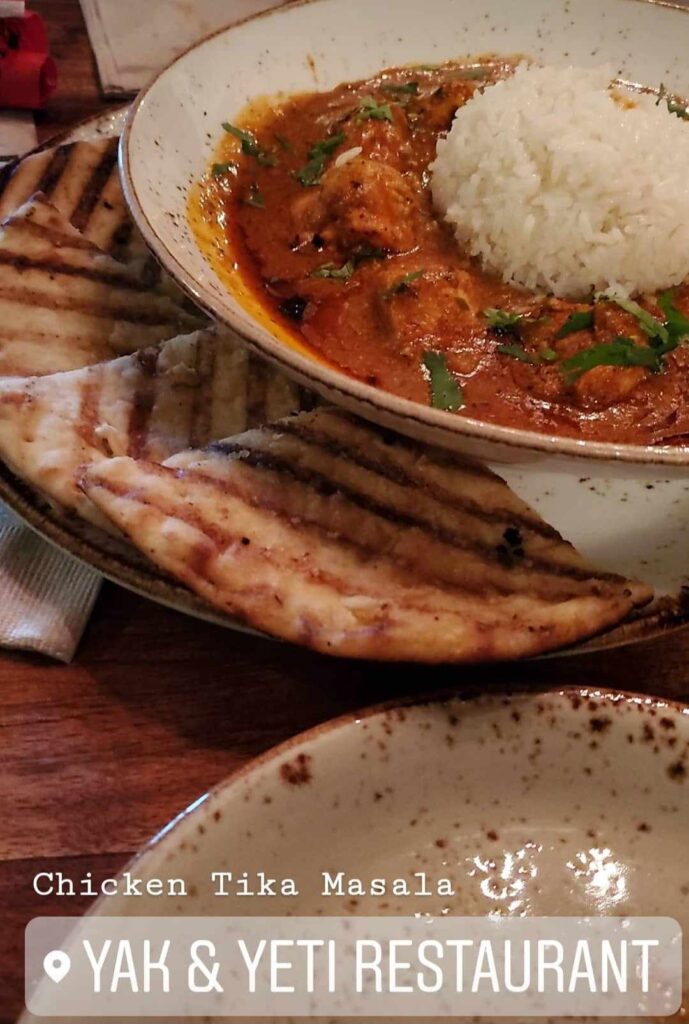 The Food
You will find a delectable blend of fresh Asian, Chinese, American, and seafood dishes served at Yak & Yeti Restaurant. There is truly something to please everyone, including the pickiest of eaters. Begin your meal with a choice of small plates, shareables for two, soups, and salads. You can't go wrong with an order of traditional pork pot stickers or a fun rendition of calamari served in a Bang Bang and sweet chili sauce. If you've never tried Fried Green Beans, now is the time; the sweet Thai chili dipping sauce is the perfect complement. On our next trip, we plan to venture out and try the Korean Fried Chicken shareable that comes with a gochujang maple syrup dipping sauce. I would never of thought of this pairing myself, but it sounds like a delight!
For your main dish, you may consider a noodle or rice bowl topped with chicken, seafood, and even a vegetarian option. There are wok-fried dishes that you may be familiar with like sweet & sour chicken or Korean Beef. You can also order something from the grill, including everything from a Beyond Burger to BBQ Ribs. I chose to order the Chicken Tikka Masala, a specialty on the menu. It was exactly what you want from this well-known dish! It was warm and comforting while also being full of flavor. The chicken was tender and well-cooked. We mixed our rice into the sauce and enjoyed dipping and using our naan bread as our serving utensil. My travel tip? The Chicken Tikka Masala is an easy dish to share. Have another member of your dining party order a different entree, and then you two can split both. There are so many flavors on offer at Yak & Yeti; each is exquisite and worth a try!
We ended our dinner with the famous (AND FABULOUS) chocolate pudding cake. The ratio of "pudding" to cake was just to my liking. The two large, thick pudding layers are similar to a firm chocolate mousse. The chocolate cake has one layer sandwiched between the pudding and one layer forming the foundation of your generously portioned slice. The cake is moist with rich chocolate flavor. The entire serving is covered in a tart raspberry drizzle; the tart fruit and sweet chocolate play well with one another to avoid the dessert becoming too heavy. There are plentiful other dessert options such as cheesecake or fried wontons with a honey-vanilla drizzle. Yum!
And of course, the kiddos are not forgotten. Children can order off the Kids Menu with a selection of entrees, sides, and even desserts just for them. All the favorites for little ones are here, including mac & cheese, Mini Corndogs, and chicken tenders. Disney Destinations truly makes traveling with children, toddlers, and babies so simple. My toddler would love the simple grilled tenders and healthy side dishes offered here.[Insert chocolate cake photo]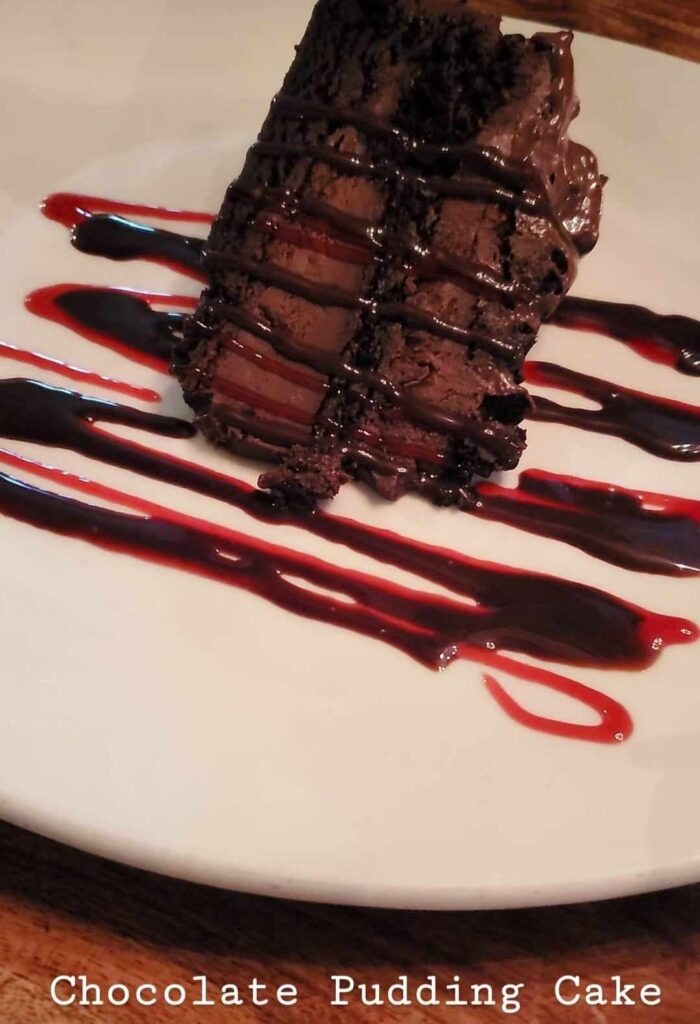 The Service
I would be remiss if I did not mention the top-notch service we received while dining at Yak & Yeti Restaurant. Due to rain, we decided to see if they could seat us nearly an hour earlier than our original reservation time. They were kind and prompt in getting us seated. Our friends joined us, so we were two seperate traveling parties, but they easily were able to combine our groups. Every staff member we encountered was professional and a pleasure.
Are you dining with allergies?
Walt Disney World is great about accommodating different dietary restrictions and allergies throughout their properties. A member of our traveling party has several life-threatening allergies. Some of these allergies are more common, while others are rare and not typically even listed on allergen warnings. We notified the host upon entering the restaurant. It was then coordinated with our server who notified the kitchen. The Head Chef personally came to our table to discuss all the allergies and what this person would be ordering. It was very reassuring that our food would be handled with care. The allergen-friendly plate was clearly marked when our table's food was brought out. The entire experience was smooth and stress-free. We felt understood and greatly appreciated our experience with the service at Yak & Yeti Restaurant. We look forward to a return visit!
---
If you have any questions about visiting Disney with toddlers or dining with allergies, I am happy to help. I have plentiful personal experience and advice to offer you. Happy travels!