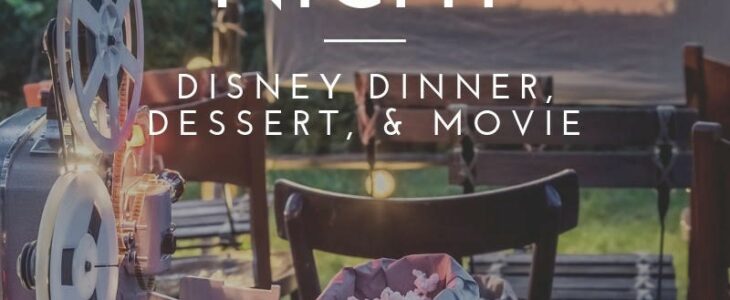 Friday Family Night: Disney Style
Our family LOVES Disney. Whether it's Disney vacations, movie theater visits, Disney clothes, Disney toys, we are almost always doing something, or thinking of, Disney! If we can get some Disney in, you can always bet our family will be in line for it. One of our favorite Disney activities, and one I recommend for all families, is having a Disney dinner, dessert, and movie every Friday night. I highly recommend trying this with your kids if you're wanting some Disney magic!

Disney dinner and dessert with a movie means picking a Disney movie, making a dinner and dessert with the movie theme in mind, and once finished, watch the movie! My goal for this family activity is to keep it simple, fun, and something the entire family can do together. It's also the perfect way to start the weekend!
These are a few tips for your Disney dinner, dessert, and movie night:
Easy dinner: Think of meals that require less cooking but easy enough for kids to help with. Get the entire family in on cooking a Disney dinner! For example, for the Little Mermaid, we have hot dogs, mac n cheese, and green beans. It's a super quick and easy and clean up is easy too!
Coloring and crafts: The day before, think about coloring sheets you could print or crafts you can do together that go with the Disney movie you plan to show. Have them ready to go for the next day so the kids can have something to do while dinner is cooking and you can make it a family activity.
Bedtime routine. Before you watch the movie, have your kids use the restroom, take baths, brush teeth, and put pjs on so when it's movie time, kids are ready for bed! No worries if they fall asleep during the movie as they will already be ready for bed.
Pallets. No, I'm not talking about wooden pallets. You need blanket pallets for the movie! In front of the TV, lay out a large blanket on the floor. Then a second directly on top, a third directly on top, and keep going until the pallet is comfy enough to lie down on. Grab some pillows and blankets and your kids can have a fun way to watch the movie!
Whichever Disney movie you and your family chooses, keep it fun! Enjoy your time together with your family and make some sweet memories!
If you need some information or help booking a family Disney vacation, contact [email protected]!